Corps Curriculum
Over the course of the first year in TFA, through early mornings and frustrating days, with a few bright moments and positive encounters, one U of C grad would stick with the program's mission despite considerable challenges. The other would quit.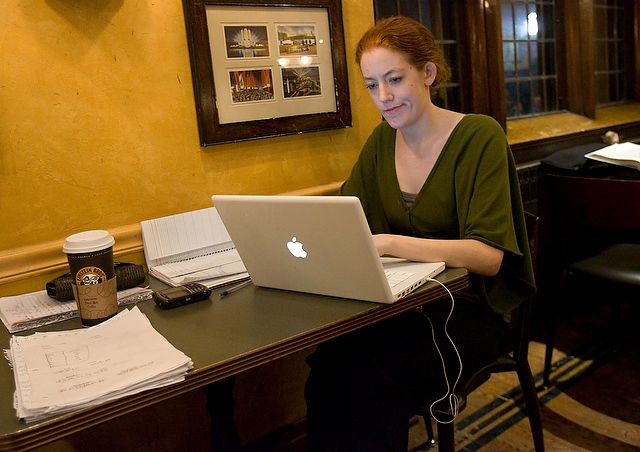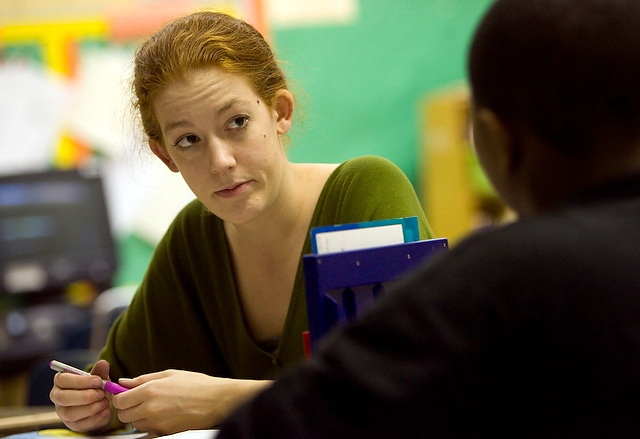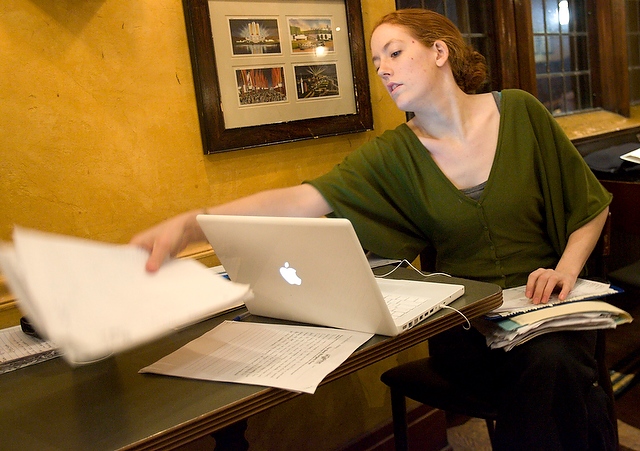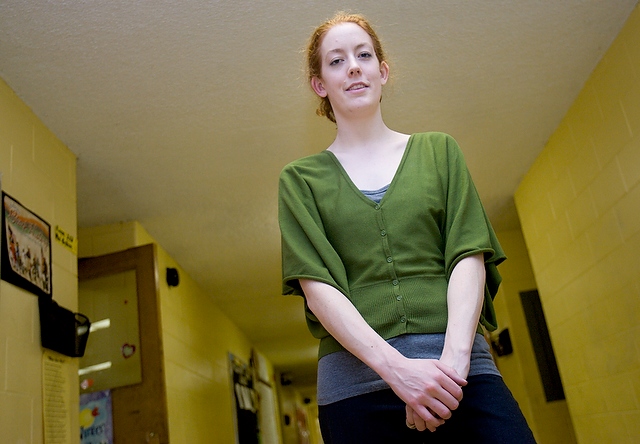 W hen President Barack Obama took the oath of office, for a moment two worlds collided for Sydney Ahearn.
As she watched the inauguration with her sixth-grade class at James N. Thorp Elementary School on Chicago's South Side, the atmosphere was one of "awed celebration," as Ahearn described it. The students were at once moved and not totally aware of the gravity of the moment. Ahearn, too, was deeply affected but forced into divided attention, keeping one eye on her class.
If the moment was a reminder of the path not taken, it was also indicative of the life she had chosen.
Ahearn had been campus coordinator of U of C Students For Barack Obama, interned for the campaign during the summer of 2007, and spent many weekends campaigning in Iowa. After graduating from the U of C with a degree in history last year, Ahearn was at a crossroads: join Teach For America (TFA) or continue her work on the Obama campaign. She chose TFA.
" call to service is what a lot of corps members feel their life is about at this point," Ahearn said. "And I feel for me too that that's a big part of what I'm doing."
Andrew Fischer Lees, like Ahearn, graduated from the U of C last spring, majoring in economics. He too joined TFA, moving to New York City to teach high school math in the North Bronx.
Lees was pumped. He had even convinced some of his friends to join the corps. The opportunity to do something meaningful, learn about education policy, move to a new city—"TFA had it all," Lees said in an e-mail interview.
But despite their similarities—similar hopes for the program, for themselves, for their students—Ahearn's and Lees's paths would quickly diverge. Over the course of the next several months, through early mornings and frustrating days, with a few bright moments and positive encounters, one would stick with TFA's mission despite considerable challenges. The other would quit.
---
When she established TFA, Wendy Kopp hoped to tap into people's desire to give back. As an undergraduate at Princeton in the late '80s, Kopp proposed the TFA model in her senior thesis, founding the organization the following year.
Corps members (CMs) commit to two years of teaching at poorly performing schools, with their only educational training an intensive five-week summer program—"Institute," as it's called by TFA-ers.
"You are quite evidently deranged," Kopp's thesis advisor joked upon hearing her proposal. From the beginning, the magnitude of the task proved daunting.
Teaching at a low-achieving school is an exhausting job. "I never thought that I could ever be busier than at the University of Chicago," Lees said. Lees's days were rigorous. He would wake up at 4:45 a.m., leave for school at 5:30, and arrive an hour later in the North Bronx ready to teach math. Lees would spend the entire day trying to be as efficient as possible—grading assignments on the subway ride to school, grabbing bites to eat between classes, ducking out of his daily graduate-school class to make phone calls to parents.
On an average day, Lees got home at 9:30 p.m., 16 hours after he left. And still, there would be another lesson plan to write, another exam to grade.
"TFA worked me to the bone, to irrationality and beyond," he said. "It will swallow you whole—there's always more work."
Unlike Lees, Ahearn does not have grad school every day, and she does have a car. But her days are still exhausting. She wakes up at around 6:00 a.m., and finishes her after-school program just after 4:00 p.m. On Tuesdays she has grad school, and every day there are papers to grade and preparations to be made.
" is so much harder than I expected, which sounds ridiculous, because I knew it would be the hardest thing I ever did," Ahearn said.
---
Kopp's skeptical adviser, while only half-serious, proved prophetic in the short term. TFA was hardly an instant success. In its first year, the corps placed only 500 teachers, and its eight-week training session was a disaster. In 1994, Linda Darling-Hammond, a renowned education professor then teaching at Columbia, harshly criticized TFA in a top education journal.
"TFA's short-comings are serious, and they ultimately hurt many schools and the children in them," Darling-Hammond wrote in Phi Delta Kappan.
It was a major blow.
The piece received huge media attention. With financial concerns coming to a head and an increasingly devolving internal organization, it was a perfect storm for TFA.
"Our organization reminded me of Lord of the Flies," Kopp wrote in her book One Day, All Children… . "All these people were running around with no common goals, no unifying values."
The challenges of TFA extend beyond the organizational level: They inhabit the day-to-day reality of managing a classroom. Ahearn once had to deal with a fight that broke out in her sixth-grade classroom.
"It was the first time I had ever experienced something like that," she said. "I was just so shocked that I could see these little well-mannered students devolve into these angry, angry little people."
Ahearn buzzed security to break up the scrum—teachers aren't allowed to get physically involved to stop fights—and a teacher from the next room came in to help maintain order. But it was a trying experience for her. After school, she drove to a Panera Bread parking lot to use the internet. (No web access at her apartment: She couldn't schedule AT&T to come because she was always at work.)
Sitting in her car that evening, it all came crashing down.
"I just cried for like a good half hour, and I don't really ever cry, so I was angry at myself for crying, and angry at my classroom for being like this, and angry at myself for letting this happen in my classroom and for having an environment that I didn't feel was safe," she said.
Ahearn tapped into TFA's support system. She called her program director.
"I don't know how to get up tomorrow and go to school," Ahearn told her.
The director talked Ahearn through strategies to deal with her problems, following up with her that night and the next day, then stopping by her class two days later.
"I think one of the things that TFA does a wonderful job of is being supportive," Ahearn said.
When Andrew Fischer Lees began struggling as a teacher, TFA's support system came to his aid as well.
"I was grateful for their efforts and support," he said.
The main trouble for Lees came from the varied skills teaching required.
"First, a teacher has to be an instructor," he said. "But a teacher must also be a spectacular incentivizer."
Lees was a good instructor—the students who wanted to learn did, he said—but he wasn't good at realigning the priorities of those who didn't care for instruction.
Ahearn faced similar problems. She expected to be an authoritarian teacher, one who laid down the law. It didn't turn out that way. She found a need to be a "crazy dramatic." When a student gets up out of his desk when he was supposed to be seated, Ahearn might fall on the floor, pretending to have a seizure.
"That's how I'm able to control my classroom—by being insane," she said.
---
Despite hiccups in the founding of the program and the challenges corps members face, after 20 years, TFA is thriving by many standards. In 2008, the program received over 24,000 applications, placing approximately 3,700 corps members. This year, though final data has yet to be released as of press time, TFA is expecting a 40-percent increase in applications. Perhaps just as impressively, the application pool draws on a highly accomplished subset of college graduates and is particularly popular among alumni of elite schools. At the U of C, 14 percent of this year's class applied along with an additional 29 graduate students. The program is highly selective, turning away about 80 percent of applicants nationally last year. At the U of C, the acceptance rate last year was 30 percent.
Meanwhile, scholarship on the effectiveness of the corps's teachers is still somewhat mixed, but seems to be moving in a pro–TFA direction. A 2008 study by the Urban Institute—the first to look at the effects of TFA teachers in high school—is wholly positive.
"The findings show that TFA teachers are more effective…than traditional teachers," the study concluded. "Moreover, they suggest that the TFA effect…exceeds the impact of additional years of experience, implying that TFA teachers are more effective than experienced secondary school teachers."
"I have to say, they really tried to keep me," Lees said, looking back now. " tried their various cures, but eventually, I knew that I would and should leave."
Lees now lives in Kenya, working on impact evaluation for development projects. He completed only several months of his two-year TFA commitment, one of about 10 to 15 percent of corps members who don't make it through the two-year program.
"I left TFA because I did not feel like my assets were being well-employed," he said. "I anticipated that I was going to be bringing a service to low-income communities that was scarce, valued, and would be eagerly accepted. In fact, none of these were true."
Lees taught, but students didn't want to learn.
"Opportunity surrounded my students, though they very seldom embraced it," he said. "A few of my students valued and accepted my instruction, but mostly I was providing a service that was not valued and was eagerly rejected—babysitting."
Lees doesn't hold ill-will toward the program—TFA tried to support him when he raised issues, and he still believes in the mission. But for him, TFA was too much. The work was exhausting, and most importantly he did not feel like he was making a difference.
Ahearn is still in her first year teaching.
Though she stuck with it, she questions her impact everyday, and the answer varies.
"Right now I just really hope that I've made a difference, and I think that I have," she said. "And whether or not I have, I don't regret what I'm doing, because I think for one thing it's changed me, and anything that I do for the rest of my life, I'll be able to bring this experience with me."
This year, 179 U of C fourth-years and grad students applied to join the TFA corps. Mike Ball is one of them.
A fourth-year in the College, Ball is majoring in political science and religious studies. He was accepted to TFA and is going to teach in the Mississippi Delta region, which covers northwestern Mississippi and parts of Arkansas.
"I chose the Mississippi Delta because that might be a place where students are underserved even more than in urban areas, just because they don't have the resources," he said.
Having worked through low-income public schools himself, Ball thinks he understands the dire needs these institutions have and the challenges any teacher will face. During his four years at the U of C, he also worked at local schools via the Neighborhood Schools Program.
"You just see a lot of the impact that teachers make, and I think I just wanted to be a part of that," he said.
Ball says he knows what he's getting into: the long days, the frustration, the inevitable failures.
"You definitely get the feeling that it's not an easy job, and you're not going to be able to see the changes that you're making probably," he said. "You're not going to have the stereotypical Dead Poets Society moment with your students."
But for him the challenge is part of the point—it's "what makes it interesting," he said.
Right now, Ball is in the same position that Lees and Ahearn were in a year ago—excited for the program, committed to the mission, and waiting to learn what the future has in store.