Taking a Knee
Medical students explain motivations behind their protest of police brutality and racial prejudice.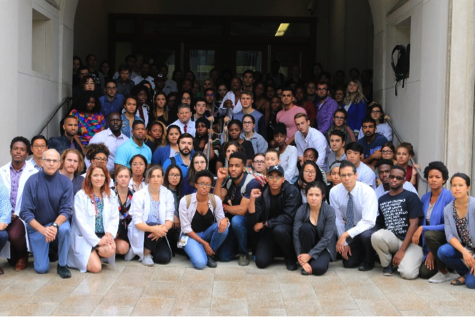 Earlier this month, faculty, staff, and students from the University of Chicago's Biological Sciences Division and the Pritzker School of Medicine "took a knee" to raise awareness of the police brutality, racial prejudice, and systemic oppression that afflict predominantly minority communities in America today. This photo was inspired by the choice of former San Francisco 49ers quarterback Colin Kaepernick to kneel during the national anthem as a way to peacefully protest these unconstitutional threats to life.
Taking a knee represents our acknowledgement of the unequal and often inhumane treatment of marginalized minority populations in this country. Taking a knee is an act of patriotism, honoring both the American flag and our country in taking action against the prejudices that are harming American citizens. In aligning our actions with Colin Kaepernick, the participating students, housestaff and faculty at the University of Chicago chose to take action in response to these issues, which have been recurrent across many facets of American life. Kaepernick's recent display is not the first instance of protest in the athletic arena. Olympic medalists Tommie Smith, John Carlos, Muhammad Ali, and other professional athletes have used their status to highlight social justice issues.
Similarly, the choice among medical professionals to kneel and interrupt the current narrative with peaceful acts of protest brings the responsibility to address social injustices into a broader sphere. The mission statement at the Pritzker School of Medicine declares the school's intent to create leaders that advocate for the betterment of humanity. At Pritzker, we aim to provide equitable treatment to all individuals, so those from different backgrounds and with different capabilities are given what they need to pursue their dreams. The white coat is more than a sartorial choice—it symbolizes a dedication of our lives to the betterment of others. This vow extends beyond the limits of the hospital doors. We can use our voices to advocate for those who do not have the privilege of our academic standing.
Kaepernick's protest is not the first public response to police brutality and oppression highlighted in national media outlets. The past few years have been riddled with headlines that have reported injustice against marginalized individuals, many of which highlighted violence specifically against people of color. Black people made up almost 25 percent of those killed due to police brutality in 2016 while comprising only 13 percent of the total population. Latinx individuals comprised almost 17 percent of those killed. A significant percentage of those murdered, 16 percent, were unarmed. Our decision to stage this protest was influenced by the inflammatory and maligned statements that have increasingly precipitated individuals to act against systemic discrimination and oppression. We are following similar UChicago demonstrations of support for DACA recipients, immigrants, and refugees that similarly sought to dismantle unjust societal hierarchies. However, the work that needs to be done cannot end with symbolism.
While changing police brutality can seem like a daunting task, collective efforts create real change. Contact your local city or state representative and urge them to take a stand against police brutality if they have not already. Campaign Zero is an easy way to contact your representatives who are considering certain issues surrounding police reform that include educating our police officers on implicit racial animus, encouraging critical thinking and de-escalation, and improving trust with community members. We urge you to donate funds that support minoritized victims of police brutality and work to protect the civil liberties of those under attack. You can additionally donate to the NAACP Legal Defense Fund or the American Civil Liberties Union to help.
We believe taking a knee is symbolic of recognizing the injustices against citizens of our country who have been the victims of fear, hatred, ignorance, and bigotry. With this photo, we hope to illuminate the need for collaborative work between those from varying backgrounds and privilege to unite our country. However, above all, we encourage all members of the University of Chicago, regardless of affiliation or school, to take action and join the many students, physicians, and citizens around the country working together for social justice.
Olivia Jordan and Connie Shao are medical students at the Pritzker School of Medicine.