"We Want Safety": An Organizer Reflects on November's Controversial Demonstration
Reeling from a student death, students tried to organize an "apolitical" rally, taking measures to sideline pro-policing viewpoints. But calls for increased policing and surveillance surfaced anyway—along with instances of anti-Black rhetoric—drawing widespread criticism on campus.
Content warning: This article contains descriptions of gun violence and anti-Black rhetoric.
On November 9, 2021, recent University of Chicago graduate Shaoxiong "Dennis" Zheng was shot and killed during an armed robbery not far from campus. Within hours, a group of international students had started a WeChat group to discuss safety on campus. A week later, they had drafted formal demands, created a website to display their message, and put into action a plan to get their proposals attention from the University. They were going to host a rally.
"First, we started a discussion about what kinds of demands we wanted to send to the University. We set up a Google Doc to collect everyone's opinions," said Hongding Zhu, a first-year student in the Master of Arts Program in the Social Sciences (MAPSS) and one of the rally's organizers. According to Zhu, the group chat had grown to 500 members––the limit for how large a WeChat group can be—within a few days of the shooting.
About 20 students volunteered to filter submitted proposals into a set of demands that could be presented to the University. "Everyone could speak, and everyone could talk," Zhu said. The volunteers sorted feedback from the Google Doc into 36 categories. They eventually narrowed these down to a list of seven demands: extended free Lyft pass hours; extended shuttle routes; real-time alerts for crimes in Hyde Park; increased safety training for students, faculty, and staff; life insurance for all University members; "off-campus protection"; and increased police accountability.
Within a week, all the pieces had fallen into place: The Dean-on-Call waived the permit requirement that would usually be required for an event of this size—citing time constraints, organizers said—and University of Chicago Police Department (UCPD) officers were in place to direct traffic. On November 16, hundreds of students marched from the Quad to Regenstein Library, demanding changes to how the University addresses student safety.
That rally, attended by over 300 people, has since ignited a controversy surrounding student safety, policing, and the relationship between the University and the communities that surround it. As students grappled with three fatal shootings of University affiliates last year, several student groups, community organizations, and faculty members began to call on the University to make changes to its policies, offering differing—and often competing—visions of neighborhood safety.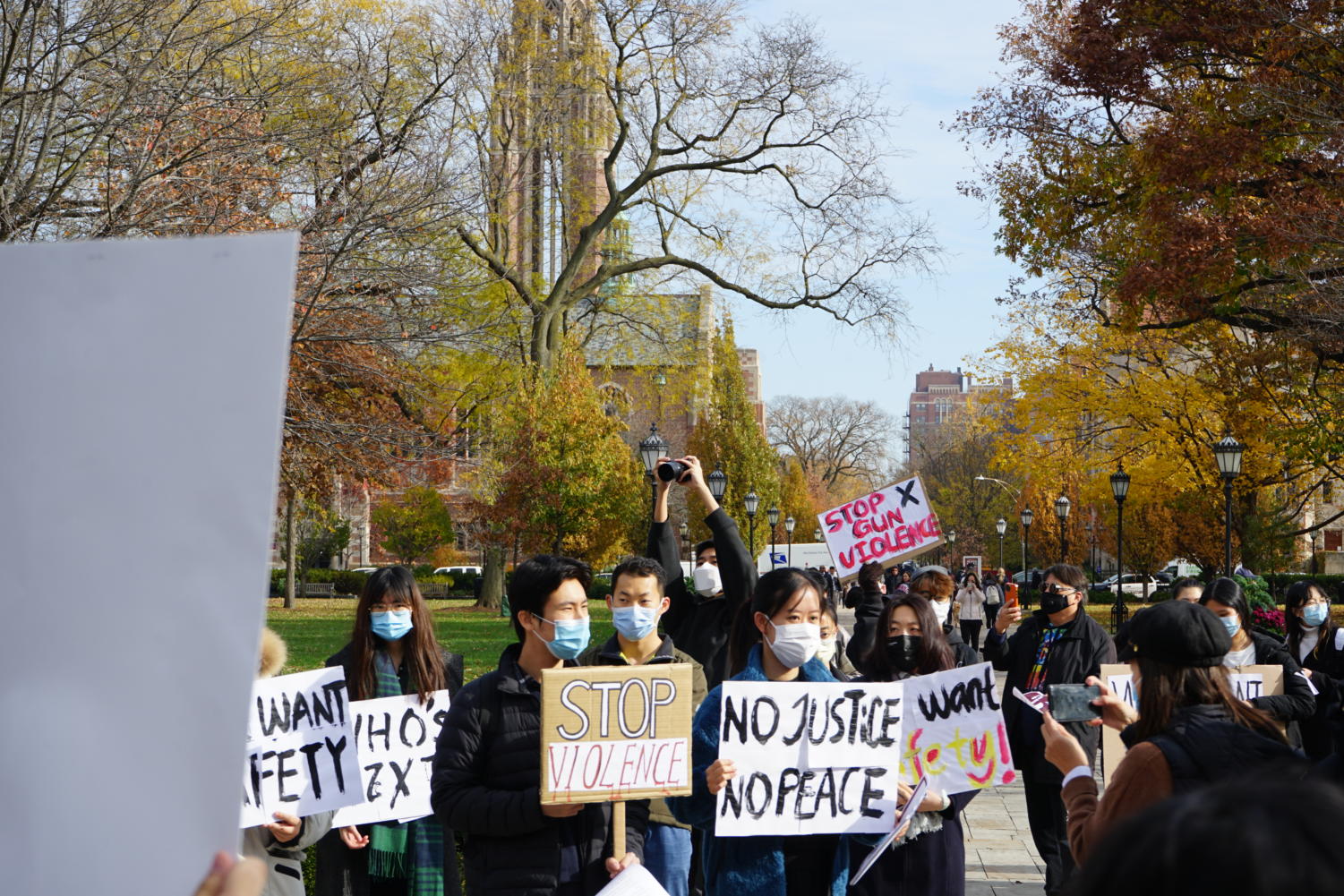 While the organizers' website does not include direct demands for increased policing or surveillance, certain individual speakers at the rally did express support for such measures. "It needs to be better than this," said one speaker at the rally's open mic. "We need to stop the politics…it's so preventable…. Supporting UCPD will save lives in the future." Another speaker framed discussions around systemic causes of crime as distractions from immediate action, saying, "invoking arbitrary deep-rooted social problems, this is just intellectual hypocrisy."
Other speakers, however, urged that attention should be given to the needs of surrounding communities as well. "The fact that we are unsafe is important and it is serious," said another speaker. "But people on the South Side and the surrounding communities feel unsafe on a daily basis."
Some organizations on campus and in the community have condemned the pro-police sentiments at the rally, accusing the rally of platforming harmful rhetoric. UChicago Students for Justice for Palestine (SJP) tweeted that the group "condemns the rally on the quad today which advocated for more intense policing & surveillance under the guise of improving campus safety." The student activist groups Care Not Cops (CNC) and UChicago Student Action retweeted the message. SJP went on to write in the thread that "SJP UChicago supports the complete abolition of prisons and policing as essential for racial equality."
Zhu objected to the idea that the rally was in favor of either increased policing or more surveillance, and he claimed that he and the other organizers attempted to sideline such messages at the event. According to Zhu, organizers requested that those displaying explicitly political, pro-police messages move to the margins of the rally. "Those who carried explicitly pro-cop, anti-defunding, or for more cameras, or racist slogans, we, at the beginning of the rally, asked to exclude them from the center of the rally," Zhu said.
Zhu claims that the presence of these individuals at the rally's periphery contributed to the belief that the rally was advocating for increased policing, as they ended up being the most visible. "We excluded them to the outer circle of the rally and did not allow them to enter. But that is exactly why people saw them outside our rally and think this is all about our rally."
Organizers emphasized that measures were taken to keep the rally as open and fair as possible while still remaining "apolitical"—that is, not weighing in on the question of policing or taking an explicit stance on any policies outside their seven demands.
"Pro-cop was never the official stance of the rally," said Zhu—who himself is skeptical that increased policing would serve to decrease gun violence. According to Zhu, the organizers decided not to address policing directly, both to be respectful to the deceased and his family and because such an approach would be better for fostering conversation. According to Zhu, the best approach was one that allowed the speeches after the main rally to reflect the conversations happening around safety, as opposed to one that only permitted certain viewpoints to be expressed.
"There are very diverse opinions among the Chinese students, and also other international students, and even the local student groups," Zhu said. "Why we just tried to find a non-political middle ground is that we think an echo chamber or several echo chambers is actually worse than an open platform where everyone can have a conversation."
According to Zhu, the backlash against the rally was a missed opportunity to allow more students to enter the conversation. "I think I must criticize them," Zhu said of the rally's critics. "They think that everyone in the University should already know well about their cause. So if you do not directly say 'defund the police,' or if you allow someone who is pro-cop into a rally, then [they assume] you are against them," he said.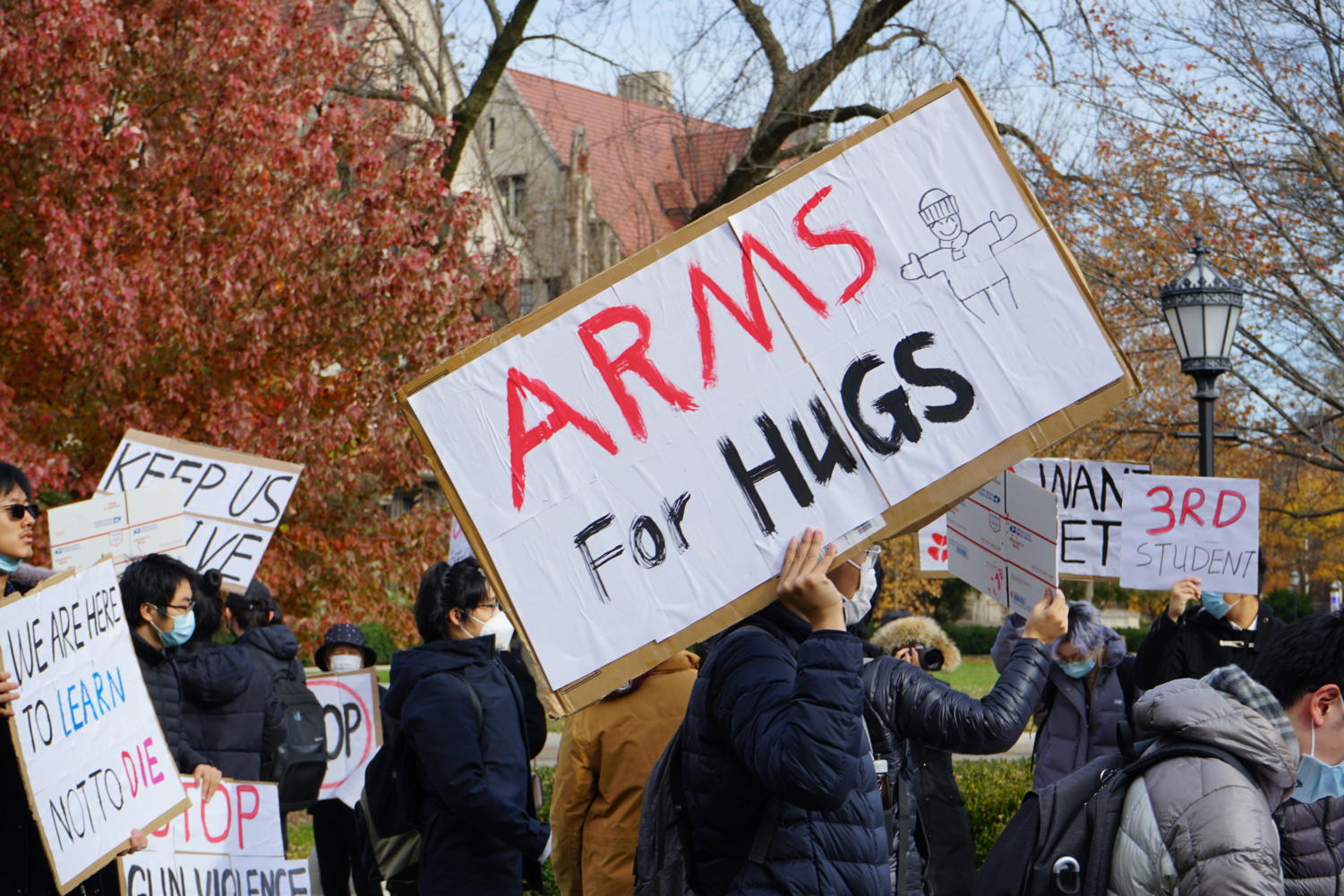 According to Zhu, accusations that the rally was racist could potentially antagonize students who might otherwise be sympathetic to activists' goals. "It has a direct negative impact on whether people in our community want further conversation," Zhu said.
Yet some have argued that this open approach allowed harmful speech to surface.
"It was a space that let a lot of really racist speech, even posters, sort of have a platform," said second-year Kelly Hui, an organizer with CNC who also serves as a Viewpoints editor for The Maroon.
Instances at the rally that have drawn accusations of racism, including one speaker telling the crowd, "The Black kid who killed [Zheng]…was raised in drugs…gun violence…it raised him. It's about Chicago."
Hui objected that the rally provided a platform to these speakers. "I think for a Black student passing through or community members passing through, that creates very active harm. It's a bit naive to believe that you can hold a rally on safety and not have it be political," Hui said.
In the days after the rally, the Organization of Black Students (OBS) released a statement condemning the "racialized paranoia and anti-Black rhetoric" expressed by UChicago students. "The University community must reject and denounce this rhetoric both in person and online. Such rhetoric is harmful, unproductive, and unnecessary to an actual conversation on safety."
In an op-ed published last month in The Maroon, Zhaorui Wang, a graduate student in the Division of Social Sciences, argued that the sentiments voiced at the rally were the result of deeper cultural rifts. "The conscious and subconscious rejection of the 'only two sides' view explains why the rally participants were not aware of the potential risk and harm when holding slogans like 'student lives matter'—not recognizing the cultural and racialized significance of the Black Lives Matter movement—and also why when observers conclude that the Chinese international students are calling for more police violence when they call for more police presence, they are far away from the original intent."
Wang argued that labeling the rally as categorically pro-police was reductive. "A large number of Chinese international students, if not most, are willing to simultaneously hold two truths: that racialized police violence is a problem, and that basic safety is also a problem. It seems like the critics can only see the former."
Other groups have also called on the University to enact changes in how it approaches student safety. Shortly before the rally, a public letter signed by more than 300 UChicago faculty members called on the University administration to take measures meant to increase safety on campus. Demands included enlarging the borders of UCPD's jurisdiction, increasing camera surveillance in Hyde Park, and increasing the number of security guards off campus.
Several community organizations and faculty members spoke out against the sentiments expressed in the letter. Julie Orlemanski, an associate professor in the English department, publicly criticized the letter on Twitter. "I'm a faculty member, & these student deaths are heart-sickening, just a blighting waste. But so are the other 784 Chicago homicides in the last 12 months, in a city with the 2nd highest per capita police budget. More police is NOT IT," Orlemanski tweeted.
In an email to The Maroon, Orlemanski added that "[t]he University has a long history of trying to make itself a sealed enclave on the South Side, through its management of real estate, the built environment, medicine, transportation, and policing. That strategy just doesn't work."
Hui echoed these sentiments. "It's important that we take this moment where everyone's starting to think like, 'oh my gosh, like, are we not safe on campus?' Take this moment where people are reevaluating, reimagining safety to turn toward non-carceral, non-police, community-centered conceptions of safety…. We want true safety for everyone affected by violence in our communities, not necessarily just the students."
Many of the measures demanded in the faculty letter, including increased camera surveillance around Hyde Park, increased police patrols, and changes to intelligence sharing between University and City police, have since been implemented by the UCPD and Chicago Police Department (CPD). The demand for extended Lyft pass hours—which was advocated for at the time by both the Undergraduate Student Government and the rally organizers—was also implemented.
But several student and community groups condemned some of these changes. A petition circulated by CNC, which has so far gained more than 800 signatures from students, faculty, alumni, and residents of Hyde Park, called on the University to reverse expansions of policing and surveillance and invest in the surrounding community.
Zhu stated that these changes were not in line with what the rally on the quad was trying to achieve. "These measures, I believe, none of them were in response to our rally. Because our rally never asked for them."
In her email, Orlemanski urged the University to embrace alternative solutions to violence in Hyde Park. "I would love to see the University rushing to support true anti-violence programs like READI [Rapid Employment and Development Initiative] Chicago, Chicago CRED [Create Real Economic Destiny], Communities Partnering for Peace, and Cure Violence; advocating for the Peace Book Ordinance and Community Restoration Ordinance," she wrote, listing other racial justice activist groups such as GoodKidsMadCity and Asian Americans Advancing Justice.
Zhu remains optimistic about the possibility of finding common ground. The various community campaigns for safety, according to Zhu, mark "a chance of finding potential allies and absorbing more people into the conversation, instead of creating more misunderstanding."
When asked about the differing proposed approaches to student safety, Hui echoed the call for recognizing the shared interests of the student body. "I feel like a more productive thing to do is recognize that at the end of the day, we all just want to feel safe." Hui said. "We should be working together to demand better of the University, to invest in actual solutions that will create safety for everyone."
With the pain of loss still fresh, disagreements—both real and perceived—add tension to a student body already reeling from tragedy. And, though their approaches vary, organizers' statements belie their shared emotional experiences of sadness, of pain, and of hope.
"At the end of the day, that's all we want, right?" said Hui. "Safety, community, care."