The shouts of baristas and clinks of shaken ice fill the surgical, sterile expanse of Ex Libris Café. Ex Lib during a drink rush is a daunting sight—a line that stretches beyond its glass doors, a glossy menu advertising catchily named beverages, and a counter that sells everything from pop-tarts to, oddly, sushi. The baristas slide a barrage of clumpy drinks across the black granite countertop to patrons who often leave its location on the first floor of the Regenstein Library for a cubicle or a quiet spot in Mansueto. Those who stay sit down in groups to work on problem sets or nervously chatter about how much work they have to do. The air is practically sodden with productivity.
In contrast, to step into Hallowed Grounds, tucked away on the second floor of the Reynolds Club, is to forgo work for the next hour or two—at least provided that one exists within the space rather than disappearing into earbuds. Its cozy Gothic arches, the loud and sometimes bizarre music, and the charming clack of pool balls are often enough to tempt one away from assignments and into pleasure reading or refining humorous couplets. The shop stays open into the night, even as coffee orders slow drastically. With only one barista staffing the coffee bar at a time, the others use their breaks to relax and play pool alongside patrons.
I spent much of my first year at Hallowed Grounds, often finding myself autopiloting like a homing pigeon to its entrance when I'd intended to navigate to a class or a dining hall, and I'm not alone in finding a sense of home in this type of environment. UChicago's coffee scene is unique. A Grubhub study found that we order caffeinated beverages 138 percent more frequently than the average American, and we have one of the highest numbers of coffee shops per capita—at least 10 on campus, depending on how you count. Here, coffee shops create enclaves of loyalty and labels by which people define themselves in a way that often goes beyond the sheer convenience of a preferred drink or an arbitrary location. They make us feel welcome by cultivating an atmosphere with decor and music, allowing us to build relationships with other students who frequent the space or work there, and serve as convenient spots for meetups, homework sessions, or just killing time between classes.
The ambience of a coffee shop can create a socio-scientific phenomenon called the "third place." Distinct from home, the first place, and work, the second place, it fosters community by giving people a space purely for hanging out. Here at UChicago, no two cafés are alike. Some cafés are more work oriented, while others are more relaxed; some are more open to the outside community while others are more student centered. I began an investigation into whether UChicago's coffee shops serve as third places.
 "Penny Universities": Coffee Shops and the Third Place in History
There's a science to creating community. In 1989, sociologist Ray Oldenburg proposed the concept of the "third place," which describes a space whose main function is socialization and community building. A third place provides an escape from the pressures of both home and work, opening a space for conversation and interaction with strangers. An important facet of the third place is its socially leveling nature, one that brings together community members with little or no financial barrier to entry. A third place is an attempted escape from both status and the desire to constantly buy, sell, or make money, and it paves the way for the creation of value outside of capital.
There are many modern propositions for the third place. Walkable cities benefit from the presence of plazas and public parks, and public libraries provide a sanctuary for errant elementary schoolers and adults needing Wi-Fi alike. What seems most notable for modern-day college campuses, though, is the coffee shop. Oldenburg notes in *The Great Good Place* that "coffee spurs the intellect.… Those drinking coffee are content to listen contemplatively to music… Reading material is widely digested in the world's coffeehouses." Beverages function as social lubricants, and coffee works especially well in the esoteric, bookish culture here at UChicago.
Indeed, the coffee shop has, historically, created a third place. After the first opened in late 15th-century Turkey, Turkish coffee shops functioned as centers of community and socialization, with the coffee tradition itself being "a symbol of hospitality, friendship, delicacy, and entertainment."
At the most fundamental level, British coffee shops addressed the need for a daytime gathering space less plagued by drunkenness than taverns. But characterized by a sense of equality, such shops also provided escape from a highly stratified society. They were even called "penny universities" for allowing those who were poor and often illiterate to listen to both gossip and intellectual discussion.
Viennese coffee shops functioned as an "extended living room" in which intellectuals and artists such as Sigmund Freud, Gustav Klimt, and Egon Schiele escaped their small and crowded apartments. These establishments allowed customers to mingle outside of their prescribed tracks of life, and the element of chance in these interactions brought novelty and intellectual excitement to the everyday. Even today, the intellectual draw of the coffee shop continues, especially for those wanting to pattern themselves after these individuals. There's a romance in reading Freud while tasting the mature bite of caffeine that appeals to students hoping to be the next generation of great thinkers.
"The Antithesis of Just Hanging Out:" The Coffee Shop as Workplace
The coffee shop as a workplace is a relatively new phenomenon, accelerated by the rise of remote work, and it complicates the time-honored use of coffee shops as third places. Coworking spaces, which allow employees from multiple companies to share a workspace, often feature amenities such as coffee, blurring the line between the café and the workspace.
Atlantic writer Allie Conti points out that in coworking spaces, "there is an expectation that all conversation will be centered on work. There is the underlying anxiety of being on the clock—the antithesis of just hanging out."
As work seeps out of the office and into our coffee shops, the third place is evolving, perhaps unavoidably. There are certainly coffee shops at UChicago that feel like havens for the myth of productivity, places in which I feel a pressure to direct the jitter of caffeine into schoolwork or project an expression of laser focus.
Conti also highlights the exclusionary nature of coworking spaces: "The possibility of a wildly unexpected encounter is slim given that most people in attendance will be in roughly the same socioeconomic stratum because they work in similar jobs." Whether you are there to work or to drink coffee, on-campus coffee shops could be seen as exclusionary in the same way that the University itself is—some exist in spaces that require a UCID, for which many of us pay $90,000 per year.
Although the campus coffee shop could be a third place, I could see how the pressures of work or the difficulties of interacting with the wider community could limit the concept. At the outset of my investigation into third spaces, UChicago's coffee shops seemed to exist in a gray area. I would need to learn more.
An Urban Community Phenomenon
Are the coffee shops at the University of Chicago truly third places? To find out, I spoke to Emily Talen, a professor of urbanism here. She specializes in the investigation of urban design as a creator of social equity.
I asked her which design choices were important for building a sense of community. "When building ages, types, and uses are as diverse as possible in a given small area, there's more activity and liveliness," she said.
At first glance, I thought, UChicago seems like a great physical space for those interactions—most student-run coffee shops are located inside academic buildings, and their function of providing a more laid-back space in an environment geared toward learning does seem, anecdotally, to create community. Take Reynolds Club, for example. Home to two coffee shops, multiple club meeting spaces, a performance space, and a food court, it serves as a hub through which students pass and run into one another daily. The presence of coffee shops in diverse spaces like these does often encourage me to visit, then stay for hours on end.
Talen agreed that a business can create an engagement between the public and private realms. "Inside of the space, you want people to feel welcome and comfortable when they walk in the door," she told me.
Ex Libris: The Home of Hustle
With Talen's words in mind, I visited Ex Libris. One rarely enters Ex Lib without the feeling of impending assignments soaking the air. As it stays open into the night, its patrons grow more and more haggard, and regulars eagerly await the quarterly instances of "Ex After Dark"—chances to buy limited-edition coffees past 9 p.m.
One early March afternoon, after waiting in a long line of student athletes and aspiring financiers, I approached the counter to speak with Jessica Stinson, the coffee shop's manager. Four hat-wearing baristas bustled around behind her, mixing drinks and shouting orders. Jessica couldn't step away to talk to me for long—she had seven hours left on her shift. She answered my questions later, through email.
"I would say that the concept of a 'third place' does not apply to Ex Libris," Stinson told me.
This discrepancy with Oldenburg's definition begins with the location of the coffee shop—behind the gates of the Regenstein Library, accessible only to those with a day pass or UCID.
"As a business, there will for sure be a financial barrier for some," Stinson said. Just the prices of the drinks alone make Ex Lib an expensive habit.
When I asked Stinson how customers use the space, her response spoke mainly to the utility and convenience of its location. It seems to be, overall, quite difficult to categorize the patrons of Ex Libris, more than that of any other coffee shop. Unlike most, it plays no music, which can help a coffee shop cater to a distinct group of students.
"We do have regulars at Ex Libris," Stinson told me. "We are in the busiest library on campus, so many choose to use us as a break from their studying."
There are low tables for group work, and a cappella groups gather in the corners and laugh together while working on problem sets while other students camp out alone with headphones in the corner. Its convenient location does increase the probability of a random interaction with others, since an important part of the third place is feeling like a part of a community. However, it can be difficult to define Ex Lib as a community or a space to relax when one hasn't even left the building or grim aesthetic of the most "brutal" library on campus.
Hallowed Grounds: The Comfort Cavern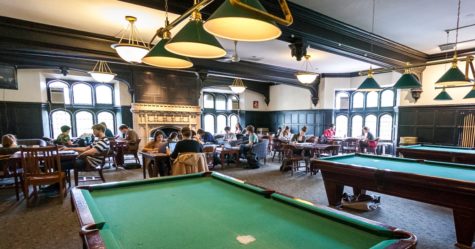 In search of an alternative, I visited Hallowed Grounds on an April evening. Climbing up the stairs through the Reynolds Club building (the design of which shifts from utilitarian to Gothic to whatever Pret a Manger is), I was reminded of Talen's words on building diversity. The café was busy—all three pool tables occupied, hip-hop playing, filled with chatter—but the counter was not. I was able to speak with Samuel Klein, a barista there, about how Hallowed Grounds could be a third place.
"Hallowed is, first and foremost, a place to chill," Klein told me, leaning over the counter. "Even for us, who are workers, it feels like such a fun place to come and relax. I especially like the low financial barrier aspect… You can just come here and have a lot of fun, and you don't have to spend money." Hallowed Grounds, unlike most coffee shops, offers more than one service, and playing a game of pool or dropping into a comedy show at the coffee shop is always free.
Hallowed Grounds seems to have legitimate credentials as a hangout spot. Even in March 2023, during a three-day stint that deprived the entirety of Reynolds Club of hot water, Hallowed Grounds opened so that people could play pool. People still came, even without the promise of coffee or a reason to spend money at all. This low-profit trend continues during the frequent nighttime events Hallowed hosts. I've attended literary magazine release parties, stand-up comedy shows, and music performances—an inspiring array of student creativity and community.
Attempting to quantify the use of a coffee shop as a workspace, I recorded on the same visit a two-to-one ratio of students relaxing to those working in Hallowed over an hour. For the purposes of this experiment, I defined "working" as either staring at a computer screen or reading a book that appeared distinctly course-related. (I found it difficult to determine where Marx and existentialist novels fell on this spectrum. "Coffee spurs the intellect," indeed.) Nonetheless, this ratio has been generally consistent throughout my frequent visits.
At UChicago, this space for relaxation provides a gift that sticks with students even past their graduations. Klein told me that alumni frequently visit to check in on the coffee shop and that the space has even hosted a wedding. "It's a unique and vibrant part of campus," he said. "I think it always will be."
Though a UCID isn't required to enter Reynolds Club, Hallowed Grounds is tucked away and is obviously a student space. Klein told me that it's a common destination for prospective students and that members of the Hyde Park community from outside the University sometimes visit the shop. However, many students here want to avoid the potential that on-campus spots have for becoming tourist destinations and losing their distinctive collegiate feel. An Instagram post from a Chicago influencer account recommending Hallowed Grounds as a hidden gem coffee shop was met with comments from UChicago students ranging from sincere pleas that outsiders leave the shop alone to joking threats ("as a uchicago student if u come here i will bite u"). Hallowed Grounds cultivates a thriving community within its space; as with any on-campus coffee shop, it can be difficult to embrace the community that exists outside of it.
Robust: The Off-Campus Exploration
I'd first thought the dichotomy between the transactional and the community-based coffee shop was exemplified through that between Ex Libris and Hallowed Grounds, but Talen urged me to look further afield. She emphasized the importance of a facet of the third place that I hadn't fully considered: integration into the wider community.
"A campus is a bit of an enclave, since the university controls the public space," she pointed out. There's a value in interactions between students and the broader community, and these interactions don't often occur on campus, where most buildings require a UCID to enter or are designated as student spaces by holding classes or collegiate events like RSO fundraisers.
I decided to investigate my favorite off-campus coffee shop—Robust Coffee Lounge. Located three blocks south of Woodlawn Residential Commons on 63rd Street, this Black-owned business is an underrated spot for smoothies, breakfast sandwiches, and lattes. It's been a trusty option for the mornings on which I needed to get work done or wanted time to feel anonymous, since it's underutilized by most students and a bit out of the way for those living north of the Midway. It feels the most like a community spot, one in which non-professor adults and young children from Hyde Park and Woodlawn frequently appear—a rare sight while staying on campus. I visited Robust on a cloudy April morning and nursed one of their signature honey nut lattes while observing the steady stream of people flowing into the cozy front room.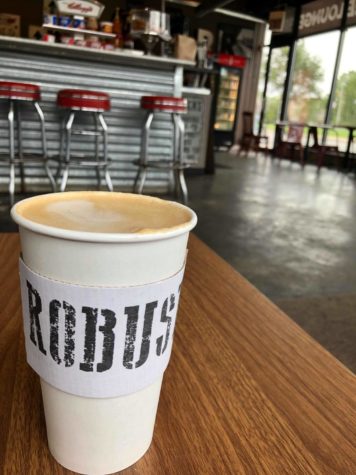 "We put together a design, but the life of the café is what people make of it," Jake Sapstein, the general manager, told me. Robust is a splendid example of building diversification. The decor is vintage and vaguely industrial, cloaked in warm browns and road signs. In the front room, loud music and the bustle of conversation provide an ambient environment for sipping a banana chai, while the tucked-away, darker back room is perfect for a quiet conversation with a friend or to hole up in a portable office.
Similarly, Sapstein emphasized the flexible utility of Robust as a coffee shop: "People see it as a socialization spot; people use it as their office for seven hours a day, are here for a meeting. There's people who are studying. It's a great alternative to being forced to go to a bar to socialize."
I learned from Sapstein that 40 percent or so of the shop's customers are regulars who return each day and that this community base is a trademark benefit of the coffee-shop business model. He agreed that Robust fits the definition of a third place and believed that the definition should apply, at least to an extent, to any coffee shop that's more than a mere grab-and-go, strictly-for-convenience spot.
"When we first opened, the attempt was to blend the neighborhood we're in and the University of Chicago community, and it's been a huge success," Sapstein added.
Robust's location in particular appears to incorporate the academic environment of the nearby university—the windows are filled with a mix of flyers emblazoned with the UChicago crest and those advertising the Hyde Park farmers' market or other local events. And though the café is a 20-minute walk from the main quad, it's right next door for the growing number of upperclassmen living in apartments south of the Midway. As students age and move off campus, they become members of the Hyde Park and Woodlawn communities; as these identities overlap, upperclassmen may more often demand third places that are removed from campus. The neighborhood of Hyde Park is filled with small businesses, and UChicago students would do well to look further afield when searching for a community hangout spot.
In Conclusion: Third Place Winners?
So, which of the coffee shops I visited were actually third places? The answer goes beyond a simple box-checking exercise. Ex Libris seemed to focus more on work and Hallowed Grounds on community and relaxation, but as always, a space is what you make of it. Especially in places like UChicago, in which work assigned for classes often blurs into intellectual passions that connect one to others, there's a continuum between purely grinding and purely enjoying oneself.
When I sat down in Hallowed to do Hum or Sosc readings, for example, the work often morphed into an excited discussion between friends. Perhaps on-campus coffee shops can be thought of as third places, but with a caveat: the exclusion of certain parts of a community. The true third place is the socially leveling third place, one that connects those who live, work, and study in one geographical area—a place more like Robust.
Regardless, these spaces aren't appreciated enough, especially for their ability to foster connection.
"It's been a pretty well-known problem for the past few decades that we have been slowly eating away at that culture of connection," Talen said. "There is a crisis of social connection going on, so the more we can activate those third places, the better off we'll be."
So, as you return to campus this fall, consider the third place, and go find one of your own. You may enter a coffee shop with the intention of indulging in a caffeine fix or hunkering down for a work session, but you just might discover the incidental goodness of becoming part of the community.