All UChicago students know that feeling: the 12:30 p.m. indecision that strikes after the end of a long lecture. It's time for lunch, and the biggest challenge is often figuring out where to go. If the dining halls or Hutch won't satisfy your cravings, the food trucks on campus might just do the trick.
The army of trucks parked along Ellis Avenue serve a wide variety of food, but it is impossible to tell from first glance which trucks are the best. Lucky for you, I ate all the research so you don't have to! Hopefully, this ranking will help you explore the best food trucks that Ellis has to offer.
The trucks are ranked according to the attributes deemed to be the most important for a mobile kitchen—taste, freshness, and value—and scored on a 1–10 scale. Taste characterizes the flavor and texture of the food. Freshness refers to the quality of the ingredients and their preparation. Finally, value accounts for portion size relative to cost.
It is important to note that not all trucks are on campus every day, and some trucks that visit infrequently may not be mentioned in this ranking.
9) El Buen Taco #3
Taste: 3
Freshness: 4
Value: 6
Overall: 13/30
El Buen Taco #3 is one of the many food trucks on campus that serve Mexican-style cuisine. I ordered the steak torta with rice and beans and a chicken quesadilla for a total of $26.93. This truck certainly delivers on the portion sizes. The torta was huge and filled to the brim with steak and veggies, and the chicken quesadilla had an almost overwhelming amount of chicken. Unfortunately, the flavor of the food was lacking compared to the other trucks. Both the chicken and steak were super dry and tasted like they were precooked and reheated. The torta was soggy and fell apart quickly, making it very difficult to eat. The quesadilla had barely any cheese and was essentially inedible. I did not find this truck to be worth the hefty price, and I would certainly recommend that you visit a different truck if you are craving Mexican food.
8) El Buen Taco #2
Taste: 4
Freshness: 4
Value: 7
Overall: 15/30
El Buen Taco #2 is another Mexican food truck that visits campus every weekday and is oddly parked right across the street from El Buen Taco #3. I was curious to see if there was any difference in quality between the two trucks, but I found that they were essentially the same. I ordered a steak taco, a chicken taco, and a steak quesadilla for $13.43. The tacos were both very dry, and the steak had an unpleasant charred flavor. The tacos were topped only with cilantro despite my having also ordered onions, which resulted in an unbalanced flavor profile. The quesadilla was topped with a generous portion of steak but, again, did not have very much cheese. Both El Buen Taco trucks serve dry, charred meat that overpowers all the other flavors in their dishes. However, El Buen Taco #2 was slightly more reasonably priced than El Buen Taco #3, resulting in a better value score.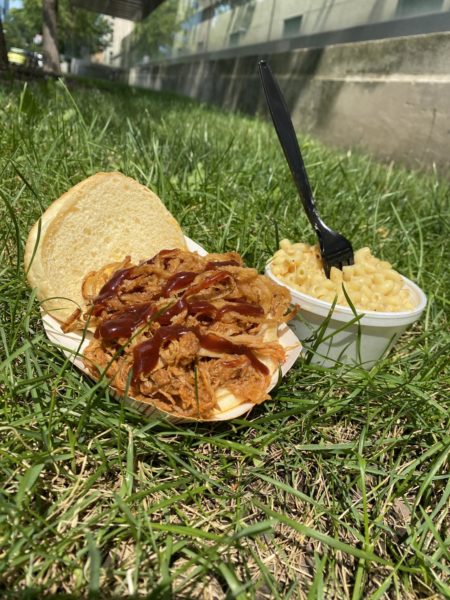 7) Reggie's on Wheels
Taste: 8
Freshness: 7
Value: 4
Overall: 19/30
Serving Southern-style BBQ, Reggie's on Wheels is relatively new to campus. I had the pulled pork sandwich with fried onions and a small mac and cheese for $23.47. The pork in the sandwich had a nice sweet and smoky flavor and was slathered in the appropriate amount of barbecue sauce. The mac and cheese was baked, with a nice cheesy crust on top, and had a mild peppery flavor. Speaking as a native Texan, this truck reminded me of home! My main qualm was the pricing. While the portion sizes are decent, the prices are quite high. If you are missing Texas and in the mood to splurge on lunch, this truck is definitely for you.
6) The Fat Shallot
Taste: 6
Freshness: 9
Value: 6
Overall: 21/30
The Fat Shallot has been serving classic American sandwiches on campus for a few years now, and the red truck has become a common sight on campus. On my most recent visit to this truck, I ordered the grilled cheese and the house fries for $14.22. The grilled cheese was greatly enhanced by the caramelized onions and spinach. I also appreciated that the sandwich was piping hot, which made for a picturesque cheese pull. The bread was difficult to bite into, as it was overcooked and slightly burnt. I don't recommend ordering the fries with a sandwich because they were a little too greasy for lunch. Unfortunately, I felt that the pricing was a bit steep for just a grilled cheese sandwich.
5) Chicago Lunchbox
Taste: 7
Freshness: 9
Value: 7
Overall: 23/30
Lunchbox offers some of the best Vietnamese fusion to hit the streets of Chicago. They serve bánh mi sandwiches, rice boxes, and even tacos. I ordered the beefy Korean bánh mi, a sweet bulgogi-style beef sandwich piled with fresh veggies, which totaled to $13.95. The sandwich had a sweet flavor with savory notes like garlic and ginger, and it earned Lunchbox the honor of being the least greasy truck on this list. The portions are quite big, and I even had some leftovers. Most importantly, I felt energized after eating at Chicago Lunchbox and highly recommend this truck if you've got a long day of work ahead of you.
4) Cheesie's
Taste: 8
Freshness: 9
Value: 7
Overall: 24/30
Cheesie's is not on campus every day, but when it is, it causes quite a commotion. The Cheesie's truck serves a variety of specialty grilled cheese sandwiches. My favorite is The Frenchie—a grilled cheese topped with American and mozzarella cheese, French fries, bacon, sour cream, and chives for $15.50. Although it seems like a strange combination, the melty cheese, salty potatoes, and savory bacon constitute a great flavor profile and will satisfy any cheesy craving! The best part of the sandwich is buttery sourdough bread, which serves as the perfect base for greasy, cheesy perfection.
3) Flash Hernandez Tacos
Taste: 8
Freshness: 7
Value: 10
Overall: 25/30
Flash Hernandez Tacos is another Mexican food truck that calls UChicago home. Every weekday at 12:30 p.m., a long line of students and staff can be found outside this truck, and for good reason! Flash Hernandez Tacos is known for their speedy service and consistently great food. I ordered three steak tacos with cheese which came out to a jaw-droppingly low total of $7.23. Two warm corn tortillas were piled with chopped steak, cilantro, onions, and my favorite Chihuahua cheese. The tacos were very moist, and there was lots of steak complemented with the right amount of toppings. All of the ingredients were very fresh, overall making this truck great value for your money. You truly can't go wrong at Flash Hernandez Tacos.
2) Da Pizza Dude
Taste: 7
Freshness: 10
Value: 9
Overall: 26/30
Da Pizza Dude dishes out Italian-style personal pizzas. Using fresh ingredients and an in-truck pizza oven, Da Dude serves some of the best pizza in Chicago. I ordered the classic margarita pizza for $12.13, which I thought to be a very reasonable price for four medium slices of pizza. The mozzarella cheese was fresh and piping hot, and the sauce was perfectly sweet and tart. I also recommend their specialty "The Pros" pizza, which is topped with arugula, parmesan, and imported Italian prosciutto. If you are looking for Italian-style pizza, Da Dude is da real deal!
1) Tacos Cincuenta Arrobas
Taste: 9
Freshness: 10
Value: 8
Overall: 27/30
Tacos Cincuenta Arrobas is perhaps the most underrated food truck on campus. The owner of the truck is very friendly and seems to genuinely care about the customer experience. I ordered a chicken taco and two steak tacos for $10.20, and my food was ready before I was finished paying. The chicken was sweet and a little spicy, and the steak was super tender. Most importantly, the food was hot and fresh. At about three dollars per taco, Tacos Cincuenta Arrobas is serving up one of the best deals on campus. This is my favorite truck on campus, and I highly recommend you go check it out.